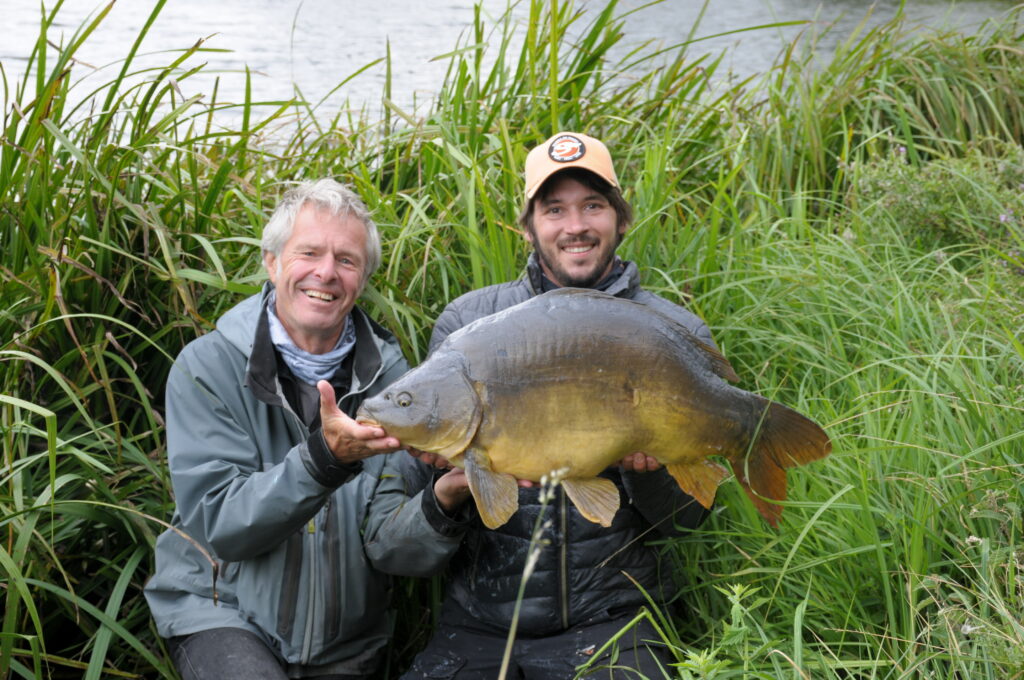 We began on carp syndicate water close to home. It is around 12 acres in extent with a decent head of fish to upper thirties. We arrived around 8.30 am as the "serious" carpers were packing up; with not huge amounts of success it has to be said. Simon and I went straight to the far bank where I found great pal Robbie Northman already lure fishing for perch.
I put a bucket of bait a rod length out from a thick reed bed where the water drops steeply off to 11 feet. The mix had a Vitalin base which carp love as well as pedigree dogs and I laced it lavishly with Robin Red 15mml boilies. Gear was simple. A 12 foot Hardy Marksman Avon 12 foot rod was teamed up with the Piscario centrepin loaded with 10 pound line. I set a 3BB waggler at 12 feet and put all the shot around the float so there was none in the water column. The hook was an 8 and a boilie was hair rigged to it in a pretty standard way. How amazingly simple was that? I was all but free lining bait with the float as a bite indicator.  By setting the float a foot over depth, the line dropped through the swim limply and any taking carp would feel next to no resistance at all. There was no need for an anchor shot on the bed either as the boilie itself provided enough weight for that. It was the ultimate confidence rig, something those carp had never seen before.
Simon had the camera on standby and within a couple of hours I was playing a real beast. This is where the pin comes in. Hooking a serious carp close in is like experiencing the searing run of a bonefish. That carp motored a full hundred yards down the lake with the reel purring. Honest. You get such control with the pin. That thumb of yours beats any clutch and you can alter the pressure on the rim in an instant.
I don't know how the film will eventually edit down but the fight landed a full 30 minutes before good old Robbie slid the net under what proved to be a 29 pound mirror, a fish built like a tank.
I keep saying this. I am not some prehistoric left over using pins because I am blinded by tradition. I use pins when-and only when- they have a job to do. Here casting was not an issue but precise control was. If range had come into the equation of course the reel would have been different. I'll add that pover long years I have fished with scores of different centre pins but now Piscario is my go-to. They are solidly eternal. I have never had an issue with any of the 4 I use day in, day out. The engineering is flawless and that is what I need in my angling career. Moreover, there is nothing fancy about the design. It is all down to earth, practical brilliance. End of.
To finish off, Simon and I took the same rod and reel to syndicate water where I had a 9 pound common on the top in half an hour. A tip here – I used floating flake as bait..so much easier to present than the usual smaller floaters. Again the reel was a Trojan as I held the fish out of the lilies. Not a squeak from it. Pure class. Wish I could say the same about me! But there you go. Two cracking carp from hard fished waters in a few hours fishing. Simple methods. Simple but classic tackle. Point proved I hope and job well done.