GROVELEY PRECISION - CHRISTCHURCH UK
Groveley Precision is a family run business in Christchurch, Dorset. Just down the road from the famous Royalty Fishery on the River Avon. Peter, the owner, is following in the footsteps of generations of engineers in his family, his Grandfather, Father and Uncle where all precision engineers and worked closely with his eldest brother developing the company.
Historically we have manufactured precision engineered products for safety critical equipment for aerospace and for offshore oil platforms, working with a wide variety of materials. Taking this experience, and with such a professional team of dedicated craftsmen, we have been able to develop these magnificent reels.
Following on from the rich history of reels to store line starting in the 1700's, first with all wood reels, then metal parts and complete reels during the Victorian era, superseded by bakerlite and aluminium materials, we took the decision to design a reel in the most modern material possible, titanium. Corrosion resistant, tough, strong and durable, titanium is used in advanced engineering applications so why not a centerpin reel?
First developing the design using 3D modelling software on the computer and then printing the best ideas in plastic to see how they look, modifying and reprinting until we came up with the look we preferred, ensuring it'd be a perfect fit for any fishing rod. Designing a quick release mechanism for the spools after testing and loosening several nuts whilst fishing! Moving and modifying the line guard was the final change.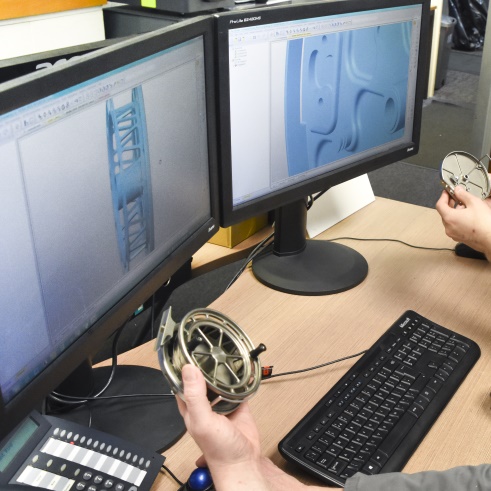 Titanium is a difficult material to machine but the decision was made to sculpt the spool and back plate from solid blocks of 99% pure titanium, for its high strength, 6 times stronger than aluminium, low weight ratio and outstanding corrosion resistance. The latest machining tools and techniques were utilised by the higher skilled craftsmen who take great pride in the manufacture of these magnificent engineering marvels. Machining to tolerances of 0.006mm ensure perfect balance and a free running spool.
Click the image on the left to watch the video of how they're made.
The fun part. John Bailey has been testing the reels for two years and coming up with various improvements. The reel has been tested in as many different environments and fishing situations as possible with different fishing rods. Trotting large rivers, fast flowing steams, free lining, marginal still water float fishing for tench and carp, and even from a boat sea fishing and it has performed superbly in each situation.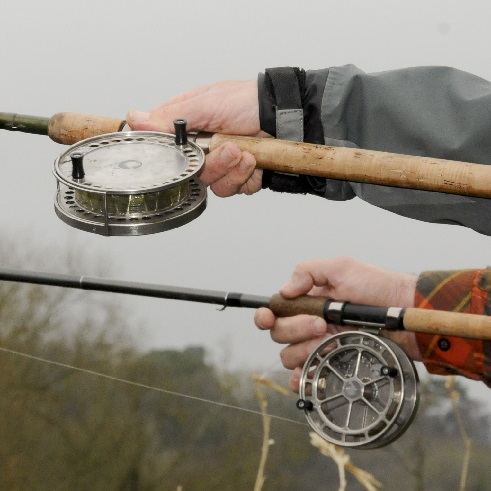 "THE PASSION AND DRIVE FOR EXCELLENCE. THE ENGINEERING SKILL AND DEDICATION FROM ALL THE PEOPLE INVOLVED IN THIS PROJECT, TO MAKE THE BEST CENTERPIN POSSIBLE, FILLS ME WITH GREAT PRIDE"